Quality Christian Holidays
Samos is a Greek treasure, an island bursting with spectacular scenery, idyllic beaches and coves, mountains, waterfalls, and picture-perfect Greek charm.
Surrounded by beautiful flora and with magnificent views over the ocean, the Zefiros Beach Hotel is just metres from the clean, pebble beach and sparkling Aegean Sea, perfect for swimming and watersports. Many of our guests have been coming on their Christian holidays to Samos year after year, and we understand why! 
Don't just take our word for it!
Loved the friendliness of it all - the young staff were tremendous and so hard working. Our grandchildren thoroughly appreciated and enjoyed the group stuff for the young, as did their parents! Big thanks to all the staff.

Maggie, August 2023, Samos
We always make friends on holiday with Richmond and always feel loved and looked after.

Kate, August 2023, Samos
It's a beautiful bay, a well appointed hotel and a great family holiday where the Christian ethos makes for a safe and pleasant experience.

David, August 2023, Samos
We really enjoyed the water sports facilities, fun activities and trips! My teens loved the youth activities and making friendships. We also loved playing in the pool, aqua aerobics, delicious bar food, evening entertainment, the feeling of safety in the hotel, and the area as a whole. Plus - the sea!

Julia, August 2023, Samos
It was a time where I could really have rest and share in fellowship with others. It was a beautiful place and I met so many people that I built deep friendships with. The Richmond staff took time to deeply look after each individual and it was the highlight of my year!

Ella, July 2023, Samos
Where do I start?! We loved the community; the staff; the worship and services; the watersports; the regatta; the activities and excursions; the amazing location; the air conditioning after a hot day on the water; relaxing by the pool; evening visits to Pyth; Go Karting... I could go on!
An amazing and relaxing holiday that the whole family enjoyed.

Robert, July 2023, Samos
Love all the Richmond staff. Lovely and helpful people with really caring hearts

Alexander, July 2023, Samos
I loved all of it! It was fantastic! Can't thank you all enough!
Richmond team were outstanding! Couldn't have done more!
LOVED the ABBA aquarobics!
Loved the hotel site and facilities.
Service from pool bar and restaurant staff was excellent!
As a single person I felt included and loved.
Samos feels a safe place for me. I came back with a big smile on my face.

Louise, July 2023, Samos
There was a clear and very well considered ministry theme to the week. Beautiful worship under the stars on Sunday night! It was great having a designated Worship Rep too.

Sarah, July 2023, Samos
I was really grateful to the ministry leaders on the trip. Both checked in with me regularly in a light hearted, down to earth way. They were a lot of fun and very approachable.

Amy, July 2023, Samos
I was particularly struck by the strong values of encouragement and 'have a go' from the staff team. They were supportive and very patient in facilitating on both the waterfront and on dry land. This felt like the quality that sets Richmond apart and made us all family, no matter what our age. What amazing young people you are developing and growing in their life skills and faith!

Lois, June 2023, Samos
Really loved the atmosphere and care from the team. Extraordinary. This was unexpected but absolutely made the holiday for me. In particular I loved the worship times, expertly led by Charlotte.

Kim, June 2023, Samos
The waterfront team were extremely friendly and encouraging to everyone whatever level they were at. I had not expected to be able to sail but was really pleased to be taken out on a "joy ride". I felt well looked after and very safe on board!

Judy, June 2023, Samos
There was a great variety of activities and the staff maintained a high level of expertise and enthusiasm in all they did. They were also flexible when they needed to be and always encouraging. The variety of activities from 'water front' to 'water colours' (Art Week) was excellent.

Mark, July 2023, Samos
I particularly enjoyed fellowship with other Christians and all the staff were excellent!

Judith, June 2023, Samos
It's hard to know where to begin! The staff were all brilliant, the beautiful, unspoiled location of the hotel, with crystal clear water and gorgeous pool, the mix of activities that were different and perfect for each member of the family, fantastic youth leaders, Christian fellowship, new friendships made... it was all pretty perfect!

Eleanor, August 2022, Samos
I loved the sailing lessons. I thought it was fantastic having such availability on the waterfront and a small group to learn to sail with. Plus the Richmond staff were utterly brilliant! Always friendly and willing to go the extra mile.

Hannah, July 2022, Samos
The fellowship and friendship with other guests was amazing. Throughout the whole trip I never felt lonely or on my own despite not knowing anyone before I arrived.

Taya, July 2022, Samos
I had a wonderful time making new friends and feeling so well looked after and cared for by both the staff and the other holidayers

Dorothy, July 2022, Samos
Loved the place and the people and the Richmond staff - they were all extremely kind, helpful, friendly and lots of fun! Loved the bikes and being able to go off exploring for the day too.

Alison, June 2022, Samos
My highlights were the prayer meeting lit by fairy lights and a swim under the stars! I learned a few new songs during worship too- thank you.

Annette, June 2022, Samos
As a single person, I enjoyed the non-intense companionship that the holiday allows and the good balance that is possible between structured activity and free time, as well as just enjoying the sun and the sea!

Charles, September 2022, Samos
I loved the place, the people, the Richmond team and the Christian atmosphere. Thank you!

Lisa, September 2022, Samos
I went in need of a real holiday. This was more than a holiday. It was refreshing, inspiring and relaxing... The whole team were amazing! My children very much enjoyed the children's and youth work. They went out in kayaks and on paddle boards with the children's/youth team and spent hours in the swimming pool. We all made new friends. It really couldn't have been better.

Kate, August 2022, Samos
The staff, both Richmond and of the hotel, were very welcoming and friendly. I came on my own but never felt alone and can recommend the holiday to other solo travellers!

Jenny, September 2022, Samos
The worship times were wonderful. The ministry was inspiring and refreshing. It was water to a thirsty soul!

Kate, August 2022, Samos
The family-run Zefiros Beach Hotel is perfectly positioned just metres from the beach. The hotel's large terrace boasts an amazing panoramic view across the hotel's pool and on to beautiful Mykali Bay.
The Greek hotel has a Mediterranean feel with cool blue and white decor. The whole area is beautifully designed and potted with vibrant bougainvillea and palm trees. There is sunbathing space around the pool and plenty of quieter corners for those who are looking for a bit of seclusion.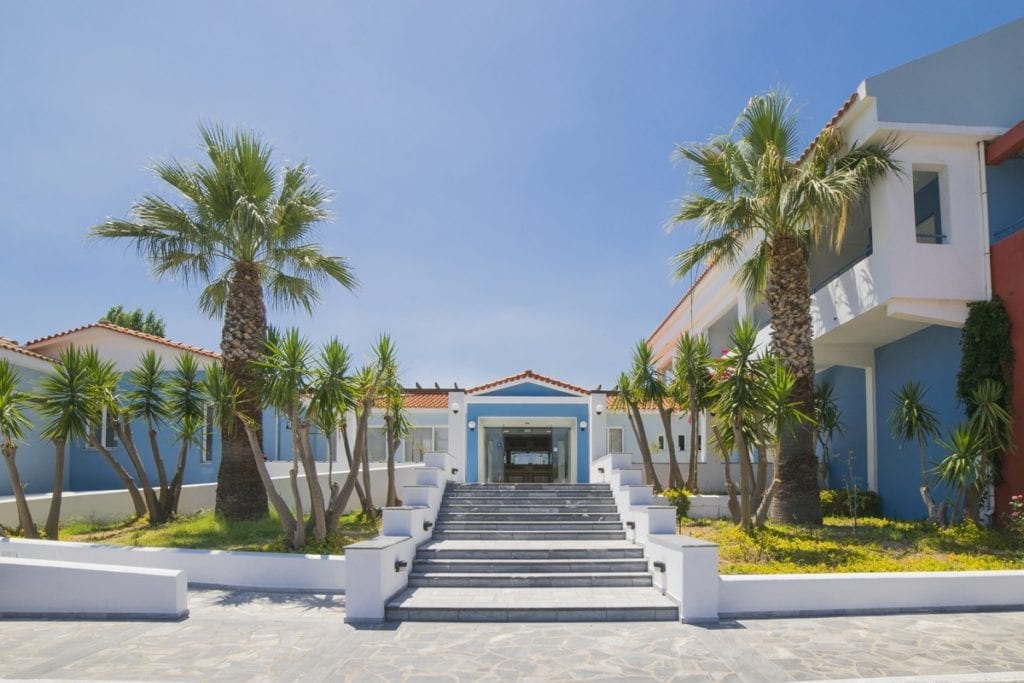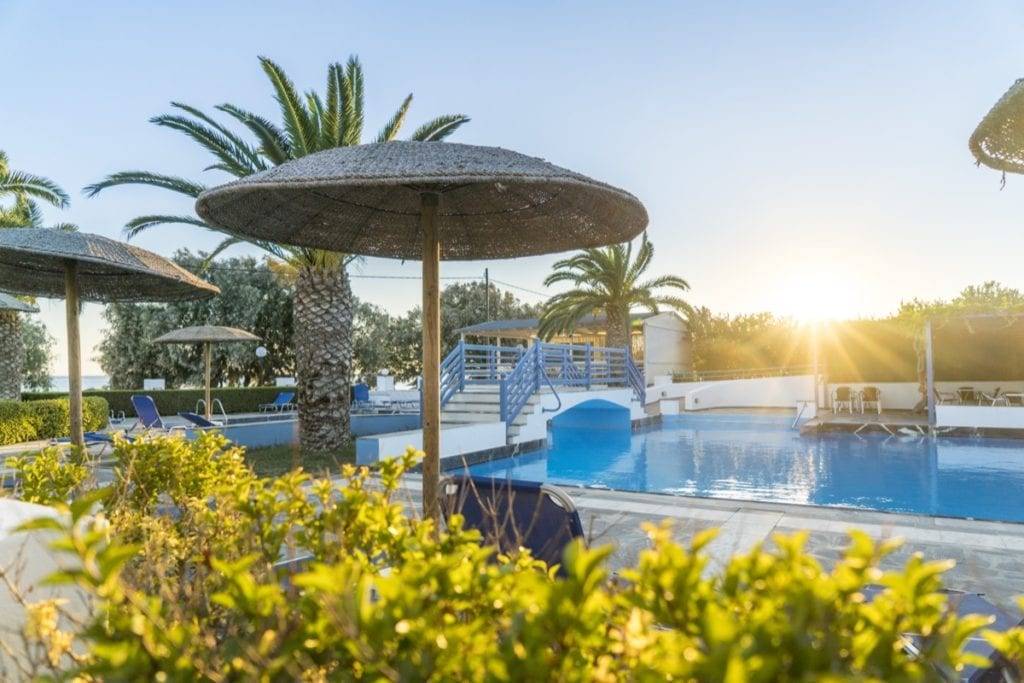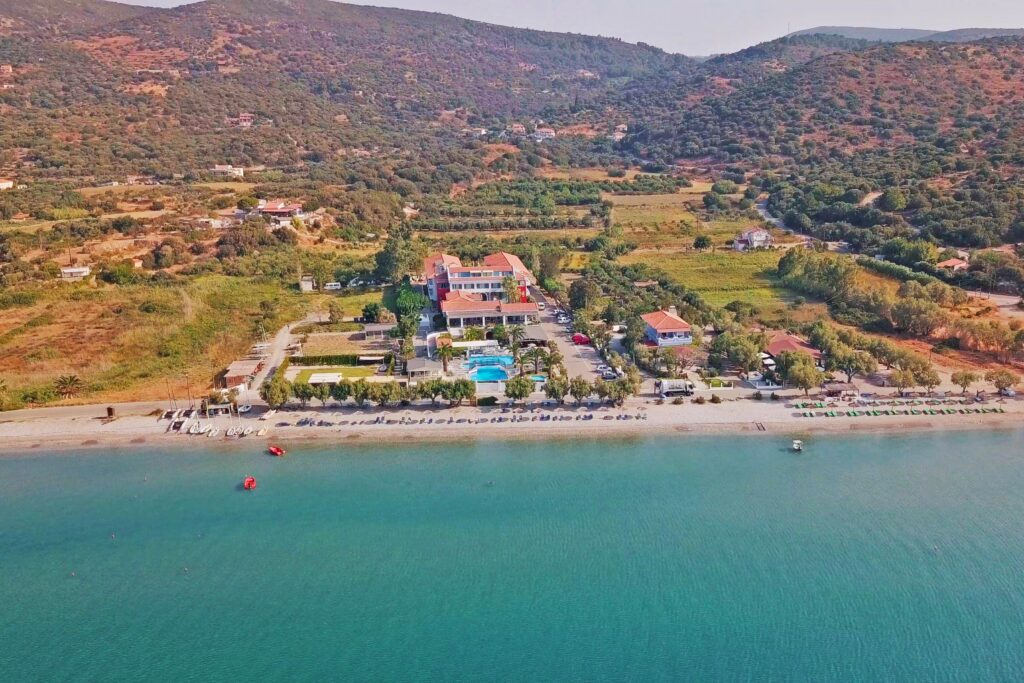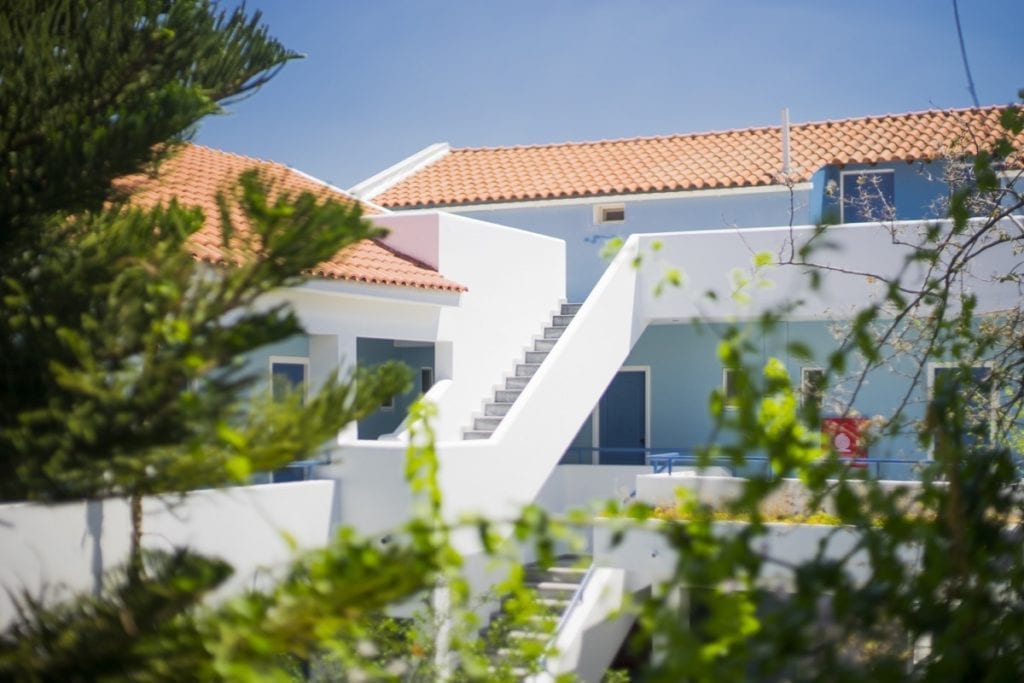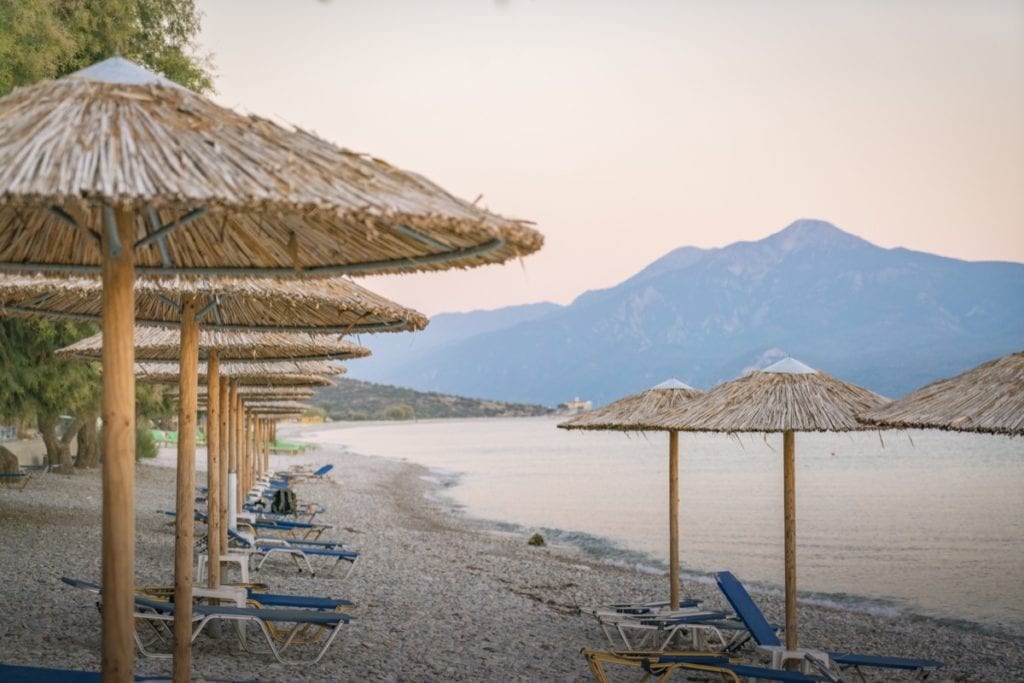 Public areas include a spacious reception, an indoor lounge and bar, a large outdoor terrace and the hotel's outdoor/indoor restaurant.
Facilities at the hotel include a large swimming pool with sun loungers, a separate shallow toddlers' pool, a tennis court, a poolside taverna and a beachside snack bar. There are also sunbeds available to hire along the beach for a small fee.
The Richmond RYA watersports centre, exclusively for our guests, is also situated on the beach in front of the hotel – you won't be able to miss it!
Samos Island, one of the most idyllic Greek islands found in the Aegean Sea, is a hidden treasure; it's picture-perfect views and natural beauty makes it a stunning holiday location.
The rooms are arranged across all four floors of the hotel. Each of the hotel's spacious, bright and airy bedrooms are ensuite, air conditioned, and have their own private balcony, mini fridge and hairdryer.
Classic Twin
Lower-Level Room
Classic Triple and Quad
Corner Suite
Penthouse Suite
Classic Twin
On the first or second floor of the hotel, these rooms enjoy a view of the sea from their balconies.
All Classic rooms have twin beds as standard, but it is possible to add an additional child's bed, subject to availability.
Maximum occupancy two adults and one under-12.
Lower-Level Room
Classic Triple and Quad
Corner Suite
Penthouse Suite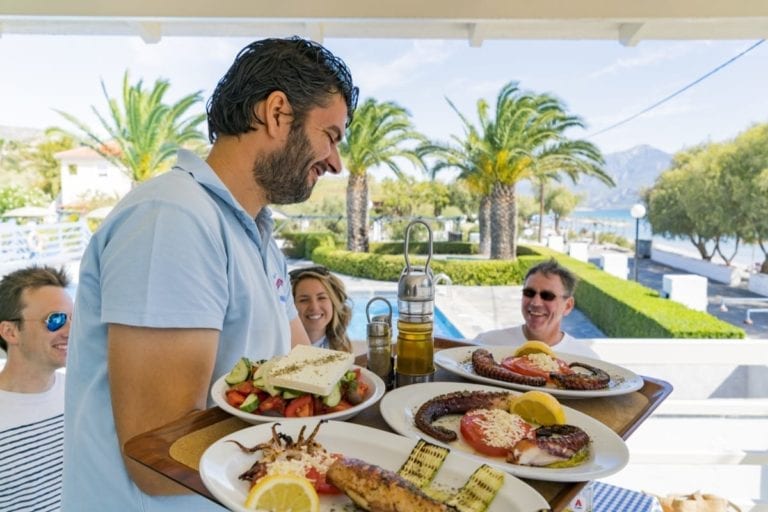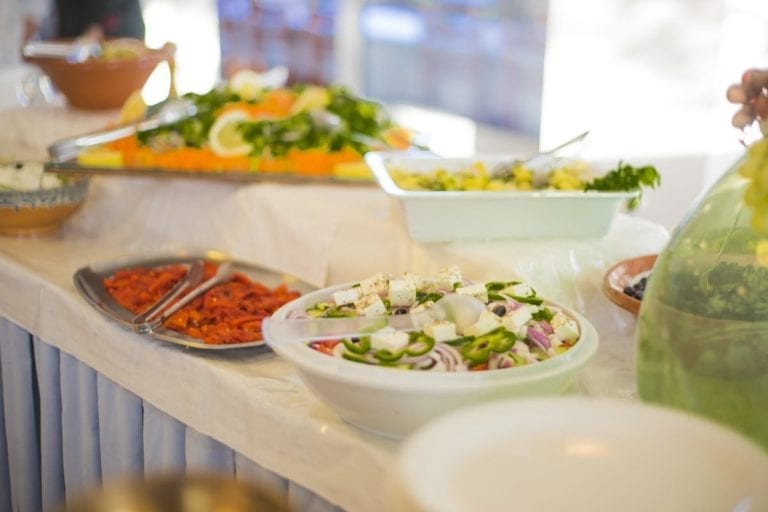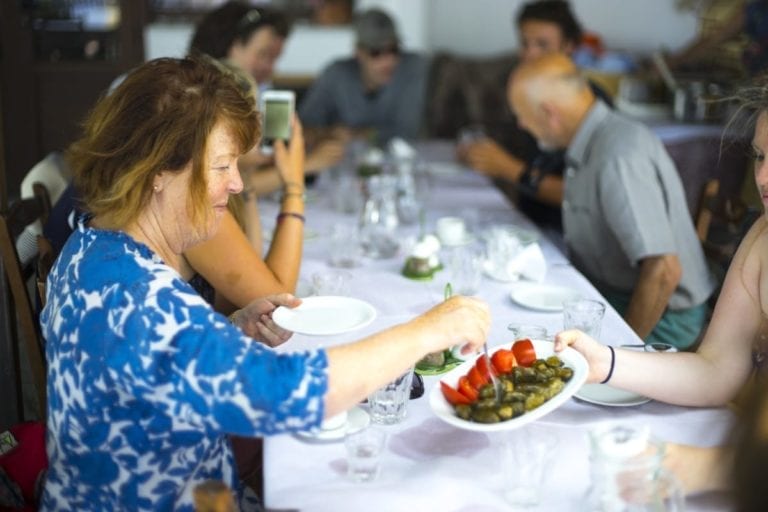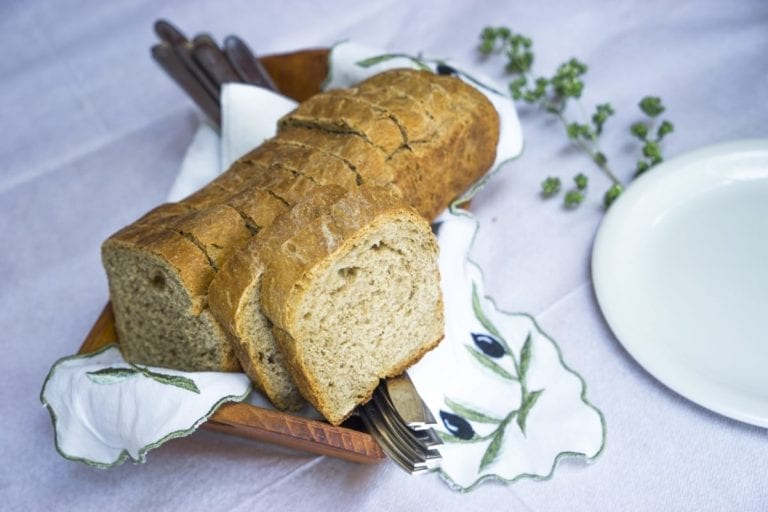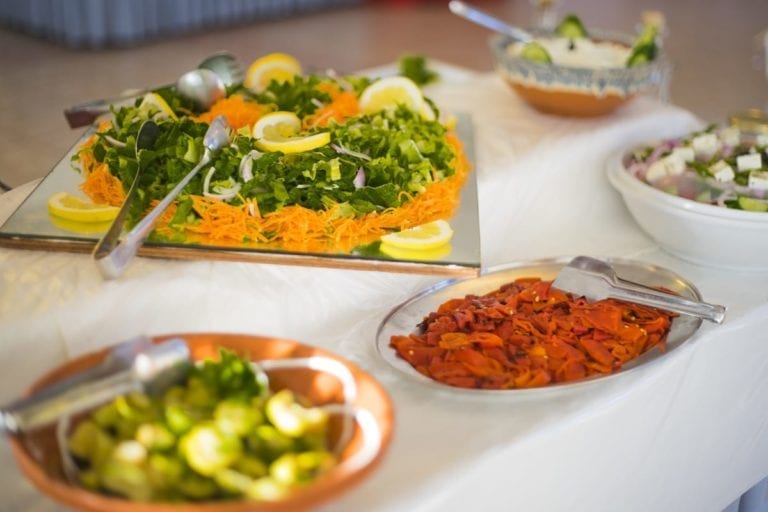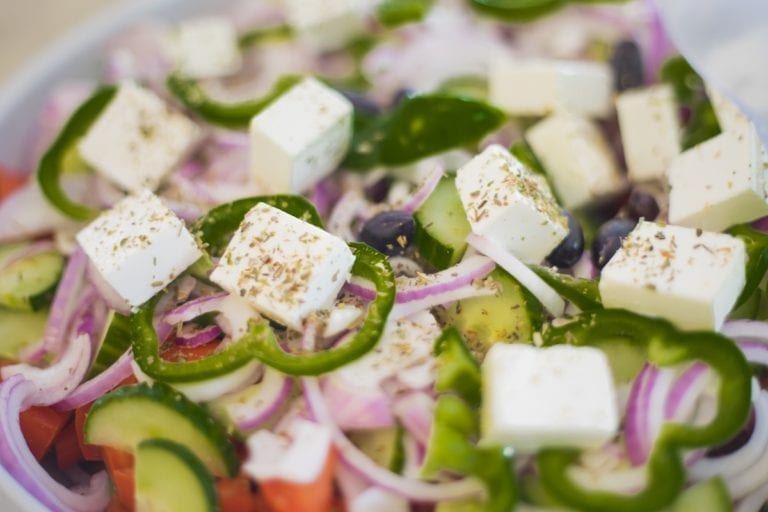 Just to say… we will do our best to cater for any dietary requirements, please let us know at the point of booking your holiday. 
Our holidays are half-board, so they include a buffet breakfast each day as well as dinner in the hotel dining area. 
A leisurely breakfast is a great way to start the day, and at the Zefiros Beach Hotel, breakfast can be enjoyed between 07:30 – 10:00 each morning. There is a varied continental breakfast including fresh fruit, yoghurt, cereals, pastries and bread. Each day there is a different egg option with accompanying meats such as chorizo, ham or bacon, and with extras such as cheese and tomatoes. Tea, coffee and fruit juice is available free of charge throughout breakfast.
Although lunch is not included in your holiday package, the hotel's poolside taverna is a great place to enjoy a delicious meal. The taverna offers traditional Greek food such as souvlaki, grilled fish and the classic Greek salad. The taverna also serves pasta dishes, omelettes and toasted sandwiches. Alternatively, there are some fantastic nearby tavernas along Mykali Bay that you can find by turning left out the hotel and wandering along the beach towards Psili Ammos.
The evening meal is available between 19:30 – 21:00 in the hotel's dining room. There are three courses and a large salad bar, with a mix of traditional Greek dishes and more classic dishes to choose from. There is a hot starter option followed by the main course including meat and/or fish and vegetarian options. The main course is served with a choice of sides. Enjoy different traditional Greek desserts each night from baklava to honey doughnuts and fruit!
There is bottled water on the table and alcoholic and soft drinks are available to order from waiters during dinner and can be added to your hotel tab. We would recommend trying some of the wonderful Samos wines from local vineyards. A glass of Samos' famous Vin Doux, a honeyed sweet wine served ice–cold, is a particularly good way to end a meal! Alternatively finish your meal with a complimentary coffee or tea.
We believe a time away of fun and relaxation is the perfect opportunity to grow deeper in relationship with our awesome, loving God in the setting of His beautiful creation. Christian holidays in Samos are an amazing way to meet others, spend time with our Heavenly Father and encourage each other.

Each day in resort, our caring Ministry Leaders provide daily teaching and reflective prayer times. They are also available throughout the holiday to chat and pray with you. 
You have access to a wide range of activities in and around the hotel that are included in the price of your holiday
If you enjoy getting involved with everything that a place has to offer, then you will love our resort in Samos! Jump on a bike to explore the island, enjoy tennis and table tennis, or join in with our fun exercise sessions that are offered throughout your Richmond holiday. 
Biking
Tennis
Exercise Classes
Multisport Programme (New)
Biking
Our biking centre is home to a range of mountain and hybrid bikes that you can use at your leisure during your stay. Your Richmond Bike Leader will run regular trips during the week to explore areas of the island you may never have known existed with routes passing picturesque white Greek churches, olive groves, secret beaches and hidden churches! The trips are of varying lengths and difficulties – from road-based routes to rocky tracks, there's something for everyone!
We provide helmets, puncture repair kits and locks for each bike and ensure all the equipment is properly maintained. The bike centre is suitable for anyone aged 12 or above, children's equipment is not provided.
Tennis
Exercise Classes
Multisport Programme (New)
Our established Royal Yachting Association (RYA) recognised watersports centre in Samos is exclusive to Richmond guests. We offer a wide range of watersports including sailing, windsurfing, stand up paddleboarding and kayaking. Use of all our equipment is included in the cost of your Richmond holiday so come and join us, whatever your age or experience.
Generally, the wind starts light in the mornings, which is great for kayaking, stand up paddle boarding or learning to sail or windsurf. The wind then builds in the afternoons allowing great planing conditions for those wanting to perfect the legendary carve gybe.
The waterfront is enjoyed by people of all ages and abilities, from those who want a casual morning sail, right up to performance spinnaker sailors. The qualified Richmond team operates the waterfront every day (except Thursdays) from 9:30 to 17:30, subject to weather conditions.
Sailing and Windsurfing Lessons
Whether you are a complete beginner or a seasoned sailor, we love to see everybody enjoying the incredible watersports available in Samos! It's not a problem if you've never sailed before, let us take you for a ride in one of our larger dinghies where you can experience the thrill of sailing and have a go knowing you're in safe hands!
Want to progress a bit more? Our qualified instructors run classes through the week for windsurfing and sailing at no extra cost. If you want a little more, sign up for one of our RYA certificated courses.
As a recognised RYA training centre, we are able to offer RYA certified courses meaning you can attain an internationally recognised qualification. We work through much of the RYA structure in the included lessons above and toward the end of the week run a conversion class to ensure you have attained at least the minimum standard in all the required skill areas.
If you are interested in a particular RYA course, you are welcome to express this to the Richmond office in advance of your holiday. We will always do our best to facilitate these courses, but please be aware that the courses are subject to availability and weather conditions. The courses are charged at £50 which is payable by card at the Richmond Reception Desk in the hotel.
For Adults:
RYA Sailing, Levels 1 – 3
RYA Start Windsurfing Course
For Children (8 to 14 yrs)
RYA Youth Sailing, Stages 1-4
RYA Youth Windsurfing, Stages 1 & 2
All courses are run by qualified RYA Instructors and RYA Certificates are issued to all who pass the course(s). All courses are subject to availability and weather conditions.
Richmond Clinics
In addition to the lessons and courses described above, we can also provide specific tuition for particular techniques both for sailing and windsurfing. These are charged at £25 per hour for 1-2 people.
In addition to all the fantastic activities available at the hotel, Richmond offer a range of excursions with opportunities to explore more of the island of Samos, as well as travelling further afield to Ephesus in nearby Turkey and Patmos, another of the Aegean islands. Our excursions are offered at a variety of price points, so there's something for everyone! Some excursions are full day trips and others are evening excursions after dinner. Read more about some of the exciting excursions that may be on offer during your stay.
FLIGHTS
There is a direct flight from London Gatwick to Samos operated by TUI each week on a Thursday which matches our holidays perfectly. We at Richmond Holidays are able to book this TUI flight for you, providing you with an ATOL-protected package holiday. Please note that flight prices and availability are subject to change, and as such, flights are not included in our online pricing. Please contact us to enquire about booking a package holiday inclusive of these direct flights and we will provide you with a quote!
Alternatively, there are a number of flights with connections in Athens and other European hubs which you can book independently. These provide great options for if you do not wish to fly from London Gatwick. For example, Aegean Airlines operates flights from Manchester, Edinburgh, Dublin and London Heathrow to Samos via Athens. Other flight operators including Easyjet, British Airways and Jet2 also operate flights to Athens from UK airports such as Birmingham, London Heathrow and Manchester. From Athens, there are three return flights a day to Samos with Aegean Airlines and one with Sky Express.
TRANSFERS
Direct transfers from Samos airport to the Zefiros Beach Hotel take just 20 minutes and are available for £12pp each way. To book, please confirm these and your flights details at least 2 weeks prior to departure.
AIRPORT HOTELS
Many people like to stay overnight nearby their departure airport to reduce the hassle of early morning travelling. For those travelling from Gatwick, there are a number of guest houses and B&Bs near the airport which allow you to park and stay very close to Gatwick airport. In particular, Premier Inn has two hotels very close to the airport, which have proven very popular with our guests.
For those travelling on flights via Athens, there is the option of an overnight stop. If you would like to stay in Athens before travelling on, we recommend the Holiday Inn in Athens which has a free airport shuttle or the Sofitel which is located just 50m from the airport. Athens is a beautiful city to explore and there is an easy to use metro service running from the airport right into the centre of Athens. Some of our guests choose to extend their holiday and get a flavour of Ancient Greece, visiting the Parthenon, the Acropolis Museum or the Temple of Hephaestus.
Let our friendly and encouraging leaders coach and inspire you! Richmond's Themed Weeks are built around bringing like-minded people together to enjoy shared activities and meet people with similar passions.
Looking for 2024? Check out our Programmes page! Programmes will replace themed weeks allowing you to opt into activities during the week that appeal to your interests.