Quality Christian Holidays
Please note, the Richmond Maderia trip for October 2023 is now completely sold out.
If you would like to express interest in our next tour, please get in touch to join the waiting list so that you'll be the first to know.
Come away with us to the city of Funchal and from here we'll take you to the best of the mountains and oceans of this stunning Portuguese island. This is an adult only break, with a choice of active excursions to take in all that Madeira has to offer.
After a wonderful trip in October 2022 we are looking forward to returning at the same time this year. This stunning island provided the perfect spot to come together and discover city delights, beautiful boat trips and empty Levada walks. With everything we experienced last year we can't wait to head back to Madeira, together with our experienced team, and find out even more about this beautiful island.
The dramatically mountainous island of Madeira is located 300 miles off the coast of West Africa. Known as the island of eternal Spring, in late October we'll be enjoying temperatures in the mid-twenties. Its mountainous terrain is home to vineyards for Madeiran wine, and banana plantations which are traditionally paired with their gorgeous scabbard fish dish. Imagine green mountains, walks above the clouds along a network of water walkways, catamaran trips to see whales and dolphins in a Gulf Stream warmed sea (with lowest temperatures of 18 Celsius!) and tele-cabin trips up to luscious gardens with breath-taking views.
Madeira hosts an endless array of 'Levada' walks which start high in the mountains, some even above the clouds, and take you along easily accessible walks through forests and mountains. We're excited to include a number of walks on our itinerary.
Madeira is located 300miles from the coast of West Africa. Come away with us to the city of Funchal and from here we'll take you to the best of the mountains and oceans of this stunning Portuguese island.
Castanheiro Boutique Hotel
In the centre of Funchal, based in a series of restored Madeiran manor houses, is the Castanheiro Boutique Hotel. This medium sized hotel is a little piece of 4* luxury in a historical and quiet part of the city, thanks to its leafy side street location. Being a family-run independent hotel, there is a very friendly feel that we just love. There is an optional excursion timetable which has a brilliantly tailored itinerary of outings, and from the Castanheiro there is lots to explore locally if you'd like a more flexible trip.
We are impressed with the hotel team and their dedication in serving their guests, it was a privilege to stay in this city hotel in 2022 and we can't wait to go back.
What our guests are saying:
"Perfectly situated in the center of the city and close to all local facilities. The hotel is welcoming, cozy and has a quality feel. It is staffed by the most wonderful people."
"Excellent location – a wonderful find!"
"Very impressed with the friendliness of staff, and their desire to make you feel so welcome."
"It was PERFECT!!!"
The stunning rooftop space hosts an infinity pool, rooftop bar and jacuzzi where you can enjoy panoramic views of the city, mountains and sea.
There's also a peaceful indoor spa with sauna, pool, and bookable treatments for full relaxation!
The food is really something to talk about here and taking your time over breakfast is something we'd definitely advise.
Standard Room
Deluxe Room
Standard Room
With an area of approximately 20 square meters, the standard rooms are spread throughout the hotel, most with a French counter balcony or window. Request a double bed or twin beds.
These rooms include: full ensuite, air conditioning, LED TVs, free wifi throughout, hair dryers, robes and slippers, tea and coffee making facilities, complimentary toiletries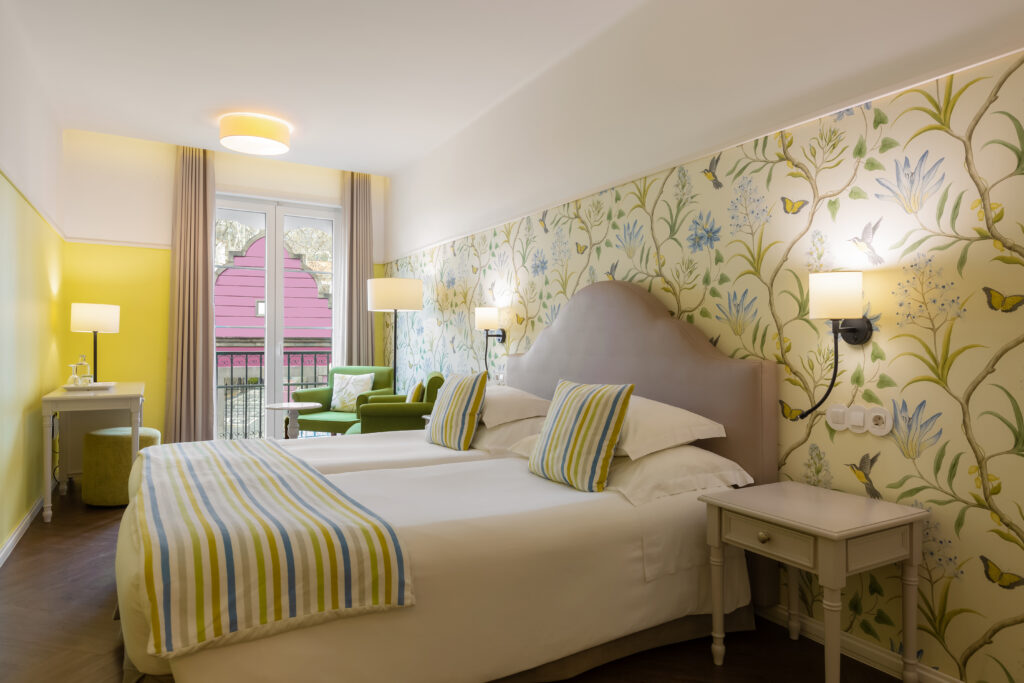 Deluxe Room
Our holidays are half board and include an incredible breakfast buffet spread, along with an A La Carte menu and a set menu for dinner in the hotel's restaurant. We are especially confident in their ability to cater for even the most complicated dietary requirements.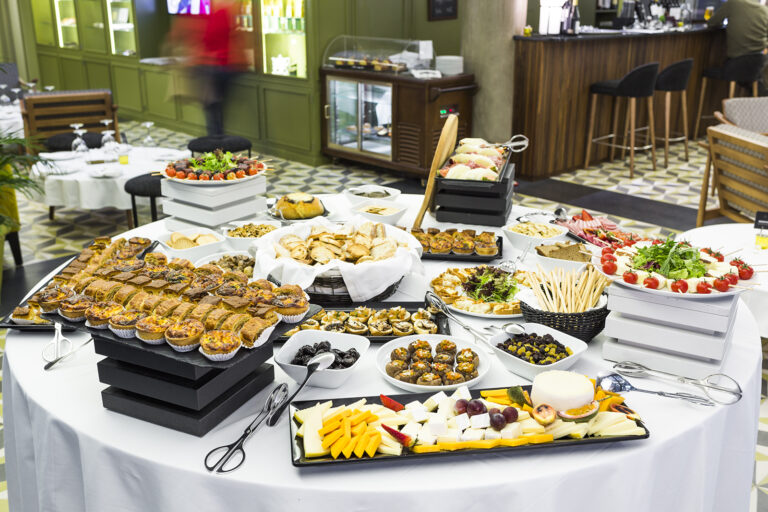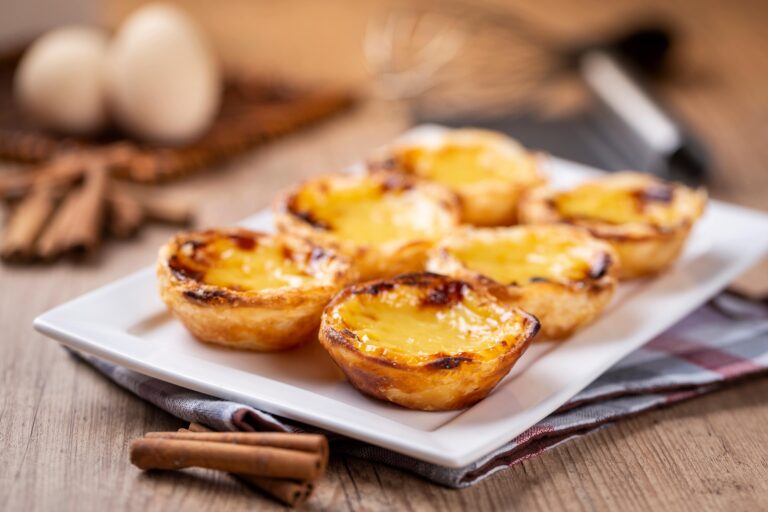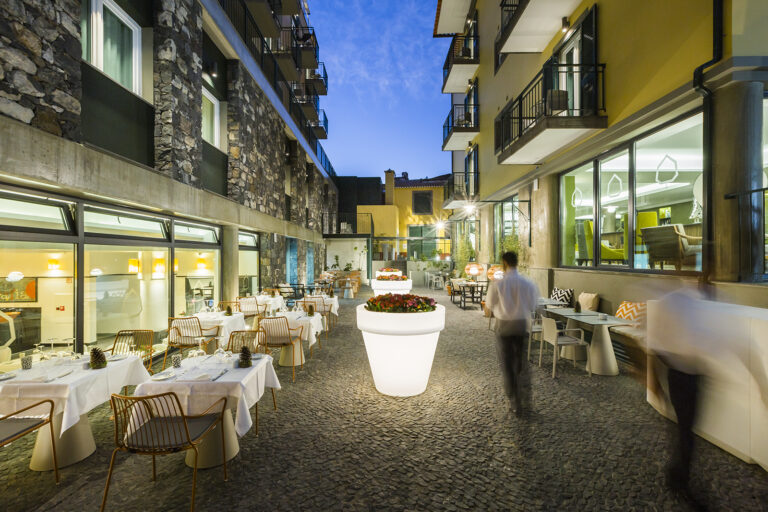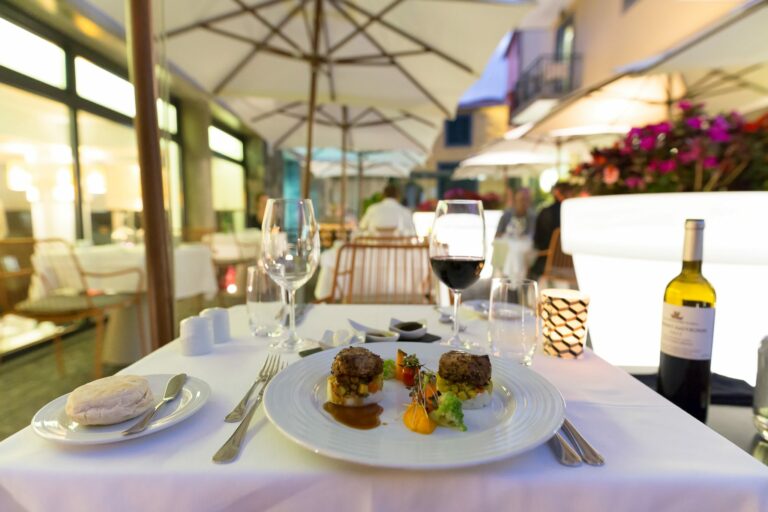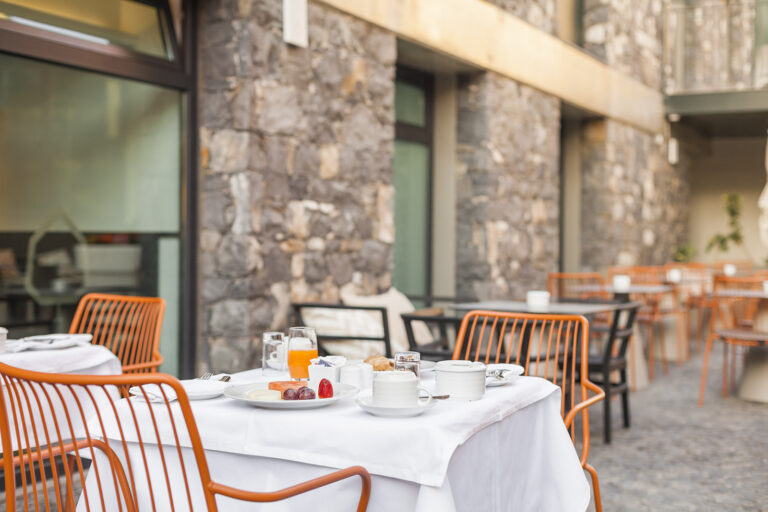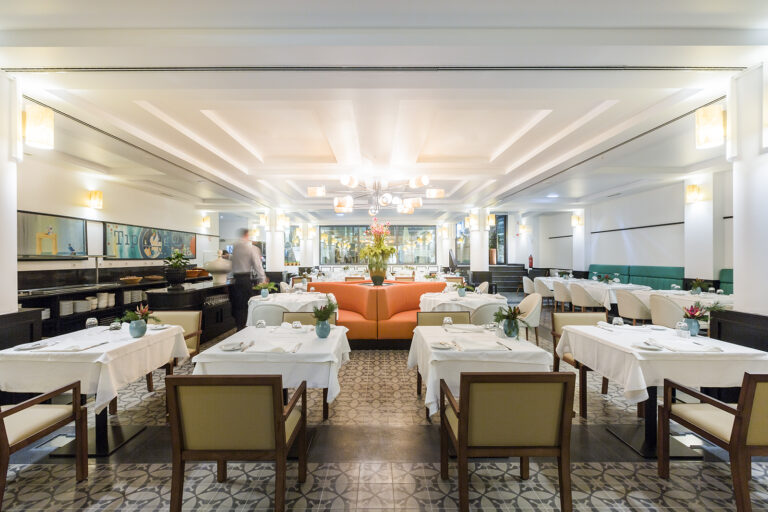 What our guests are saying:
"The food was excellent"
"They remembered food allergies without being asked."
"The restaurant tables set for 5 were perfect to include singles and get to know people."
Enjoy breakfast in the hotel's bright courtyard or spacious and contemporary restaurant each morning. Along with the spread of local fruits, choices of breads and juices, full hot buffet, pastries, local Portuguese treats, fresh coffee, choices of teas, there is an A La Carte menu. 'Cozinhados no momento' or cooked on request menu included in your holiday which features 'pancakes with bee honey and walnuts', 'crepes with sauteed fruits and ground cinnamon', 'scrambled eggs with fresh asparagus' and more.
Each morning your Richmond host and ministry leader will be at breakfast to soak in the island pace with you.
Although lunch isn't included in your holiday package, on a number of our outings and excursions we will be having lunch together in tavernas and restaurants on the island. We are based in the centre of Funchal and so there is an extensive list of restaurants and cafes at a stone's throw to enjoy. The Castanheiro terrace and pool bar also has a light menu of sandwiches, salads and pizzas to have while enjoying the pool loungers and panoramic views.
For most nights we will be enjoying the hotel's Tipografia restaurant with a different set menu each evening. Take your time over a three course dinner, with local delights and a Mediterranean feel.
Example menus include:
Starter
Salmon Carpaccio with pesto and walnuts with a variety of lettuces
Spinach and carrot cream soup with grated coconut
Main
Swordfish with jasmine rice, peppers and onion rustic with carrot puree
Roasted veal with chestnut puree and fennel with roast sauce and cherry tomato confit
Moussaka with eggplant, tomato and seasonal salad
Basil and tomato risotto with mushrooms
Dessert
Fruit in Season
Banana stuffed crepe topped with passion fruit syrup
We are delighted to announce Jerry Foster-Turner as your Tour Leader, and Ian & Jan Harrison as your Ministry Leaders. This experienced team loved travelling to Madeira in 2022 and can't wait to share the joys of this stunning island with you this year.
We believe a time away of fun and relaxation is the perfect opportunity to grow deeper in relationship with our awesome, loving God in the setting of His beautiful creation. Christian holidays in Madeira are an amazing way to meet others, spend time with our Heavenly Father and encourage each other.

Each day, our caring Ministry Leaders provide daily teaching and reflective prayer times. They are also available throughout the holiday to chat and pray with you and will be joining on a number of excursions. At meal times, both your Richmond host and Ministry Leaders will be present and this time of fellowship is a great way to get to know your fellow travellers over the course of your holiday.
Ian and Jan have been married for 52 years and have 3 sons and 7 grandchildren. Ian and Jan both had careers in medicine before retirement. Jan worked as a physiotherapist; Ian worked in a Mission Hospital in South Africa where they lived for a few years, and then as a GP in Frinton-on-Sea where they now live. They have been involved in various roles as members of Frinton Free Church over the past 45 years, including church leadership, music and worship, small groups, mums and toddlers, and prayer ministry. They have worked as ministry leaders with Richmond Holidays in the Reberty and Samos since 2011/12.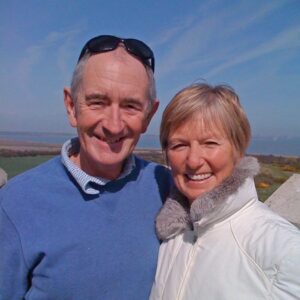 Ian and Jan say:
It is always an absolute pleasure to meet, get to know, and serve Richmond guests and staff. We believe that every one of us is supremely valuable to God, and Richmond Holidays offers us a wonderful opportunity to help everyone appreciate how special we all are.
We're so pleased to have Jerry Foster-Turner returning again to lead our tour to Madeira. This is now Jerry's third visit to the island and we're excited to take you more and more off the beaten track and delight you with new finds on the island.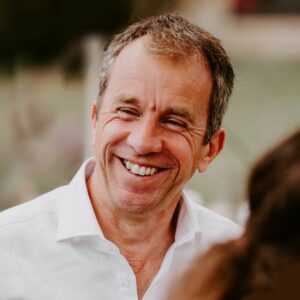 Jerry says:
The first Richmond Holidays on Madeira were in autumn 2022 and I am excited to be asked to lead them again, alongside experienced Ministry Leaders Ian and Jan. Based in the chic and very central Castanheiro Boutique Hotel, much of delightful Funchal is an easy walk away. Highlights included seeing whales and dolphins in ink-blue seas, walking the 'Levadas', the coast and some peaks, enjoying the culture and having some fabulous meals together. We will be adding to the best of our 2022 experience and wonderful guest reviews. Being able to come together daily for ministry and the opportunity to share such a wonderful place with each other will make our 2023 holidays equally special. 
In addition to enjoying the facilities at the hotel itself and nearby shops, Richmond offers a range of excursions with opportunities to explore more of Madeira. Our hand-picked excursions deepen your experience of Madeira and offer those memory-making days – there's something for everyone! Excursions will be available to pre-book from 4 weeks before the holiday. Here are some example trips we may operate:
This has been our mostl highly recommended holiday since our feedback surveys began!
Our guests' favourite things about the holiday last year:
"Friendliness and efficiency of hotel staff. Lovely people on the Island. The 11km walk and the informative guide on this walk. Funchal is an amazing place to wander around just to see what's round the corner." – Paul, Oct 2022
"Leaders lovely, fantastic praise time." – Valerie, Oct 2022
"In resort, the Christian fellowship and knowing you always meet up with others to share excursions and exploring is invaluable, especially when you are single." – Elizabeth, Oct 2022
"Thoroughly enjoyed the camaraderie that developed with the group. Very important to those on the holiday as a solo traveller. Enjoyed the organised excursions together and sharing meals together." – Linda, Oct 2022
"The quality of the hotel and its staff was exceptional, this underpinned the whole holiday. The tour guide used for the two walks we did, Sara, and her driver Nuno were both really good as well." – John, Oct 2022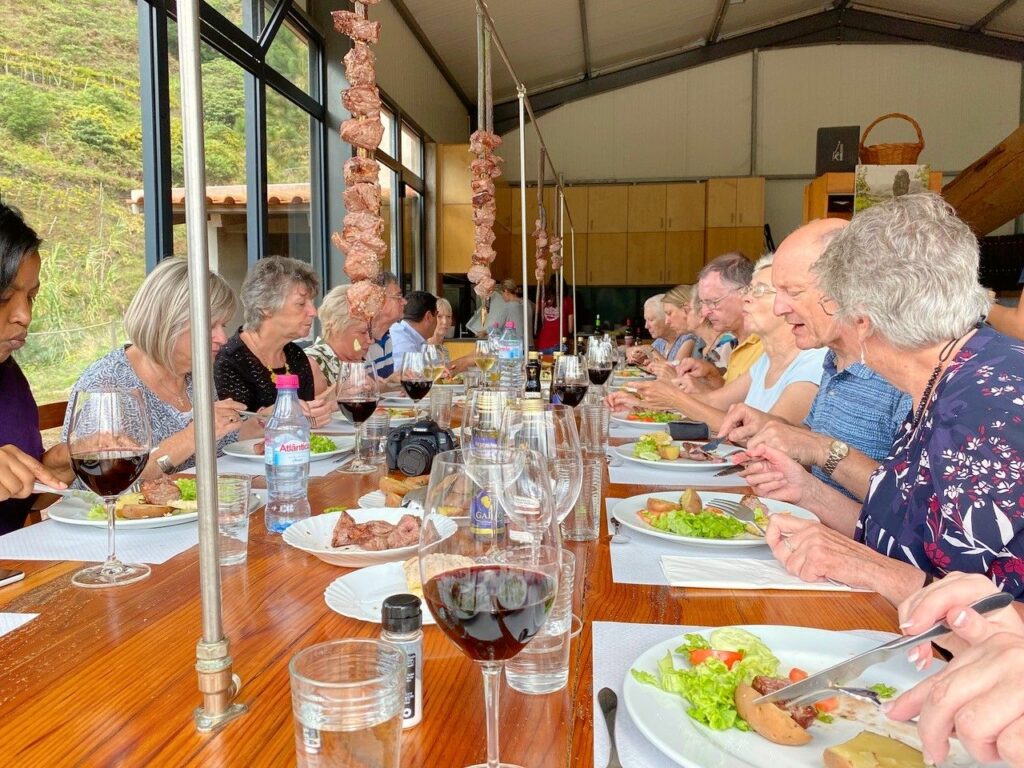 Ian and Jan's Favourite Moment
This moment they've called 'Fellowship at its best' which captured their favourite experience during our last Madeira trip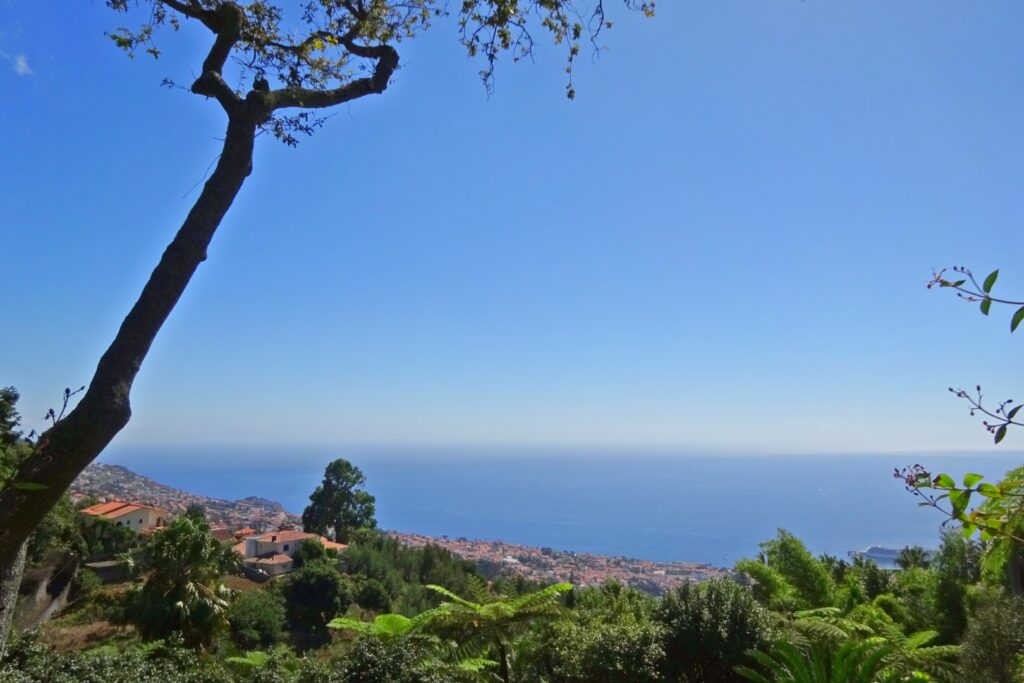 Jerry's Favourite Moment
Jerry's favourite moment can be captured in this stunning photo of the endless Madeiran views. Jerry feels that this image sums up Madeira's lush volcanic hills and deep blue sea beautifully.
FLIGHTS
Direct flights from the UK are available from London Gatwick, Bristol, Manchester, Birmingham, Newcastle, Edinburgh, Nottingham and Glasgow airports. After just a 4 hour flight in the same time zone as the UK, you'll have made it down to warm oceans and an island of eternal spring.
TRANSFERS
Transfers from Cristiano Ronaldo International Airport (the official name for Funchal Airport), are available to book with us and take around 30 minutes to the hotel. These are pre-bookable for £48pp return and are available for flights booked through Richmond or independently. We will make all the arrangements for you in line with your chosen flights.
ATOL PROTECTED PACKAGE
If you would like to to book an ATOL-protected flight package with Richmond, please call us on 020 3004 2661 to get your quote or complete the form and request a call back so we can go over the flight options with you! Our packages include transfers to and from the hotel and we provide trust-account backed financial protection in addition to ATOL certification for your peace of mind.