Last year, Bethany from the Richmond office travelled out to the island of Samos to discover more of its treasures. This time – for the first time – Bethany tried out the bikes that Richmond provide as part of the holiday package! A surprising love was born for Samos cycling, so Bethany decided to find out what other people thought of this exciting holiday activity. Here, we meet two Richmonders, a beginner and an avid fan of cycling, to hear of their experience using the bikes in Samos!
First of all, we meet Heather!
Heather considers herself a beginner cyclist, as going on a bike was something that she hadn't tried in many years. She hadn't planned on biking before heading out on holiday – read on to learn how it went: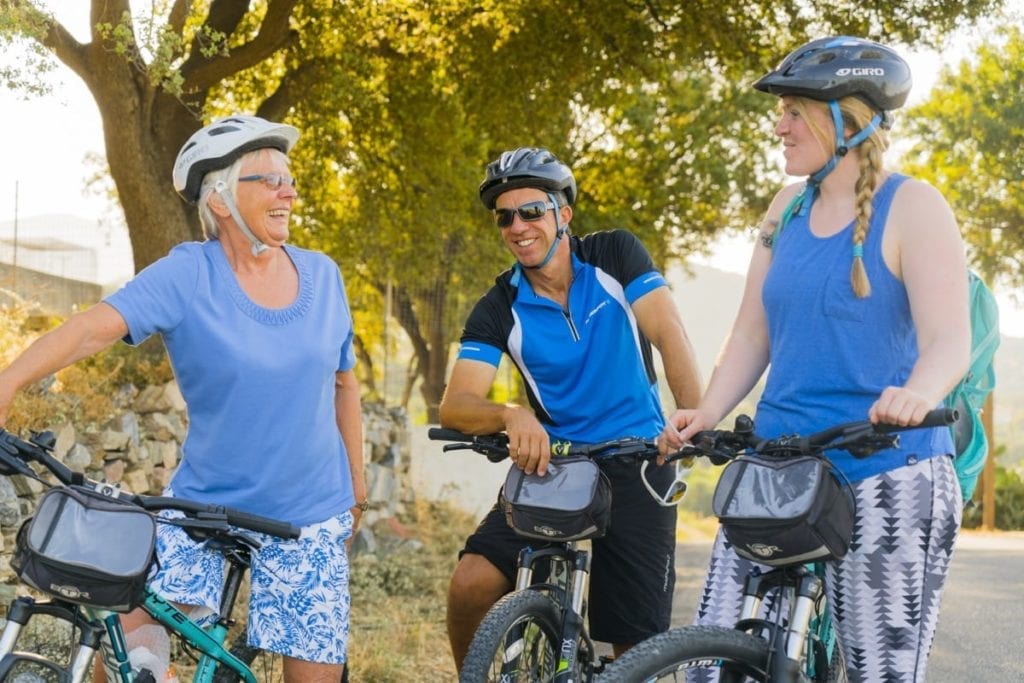 Heather: The first ride I did here was a round trip to the little church on the island.
Bethany: And that was your first bike ride in 17 years?
H: Yes that was my first trip in 17 years!! When I saw the bike, I thought "okay it looks huge! I'm going to fall off that!"
B: And did you?!
H: No! I was amazed. I just went on it and, once I got going, that was it! Brilliant!
B: Just like riding a bike… And did you enjoy it?
H: I enjoyed it a lot. It wasn't difficult. There was one little bit where I thought "am I going to do this?" and that was a slight uphill. I thought "either I'm going to fall off this or I'm going to go for it", so I just went for it and I got up the hill without turning or tipping over which was fantastic.
B: Amazing. Did it make you want to do any more cycling?
H: Oh yeah, definitely. I went yesterday. That one was down as "moderate to difficult" and at first I thought, "oh no, I'm not going to do that", because it had been so long since I cycled and the first trip was good, but I didn't want to push my luck. But I thought "I'm going to go for it anyway!"
B: That's brilliant. Do you find it very hot when cycling in Samos?
H: No, it's not actually. There is a lovely breeze here, so even when cycling, even on the roads, it's really nice. What's more, when you get cycling, you do forget about the breeze. It's not too hot for me.
B: So what would you say to someone who hasn't cycled in 17 years who then comes to Samos?
H: I would say definitely go for it! There are different types of bike, so you can find something to suit you. I went for the mountain bike and it worked perfectly for me, but there are also hybrids. So come and have a go!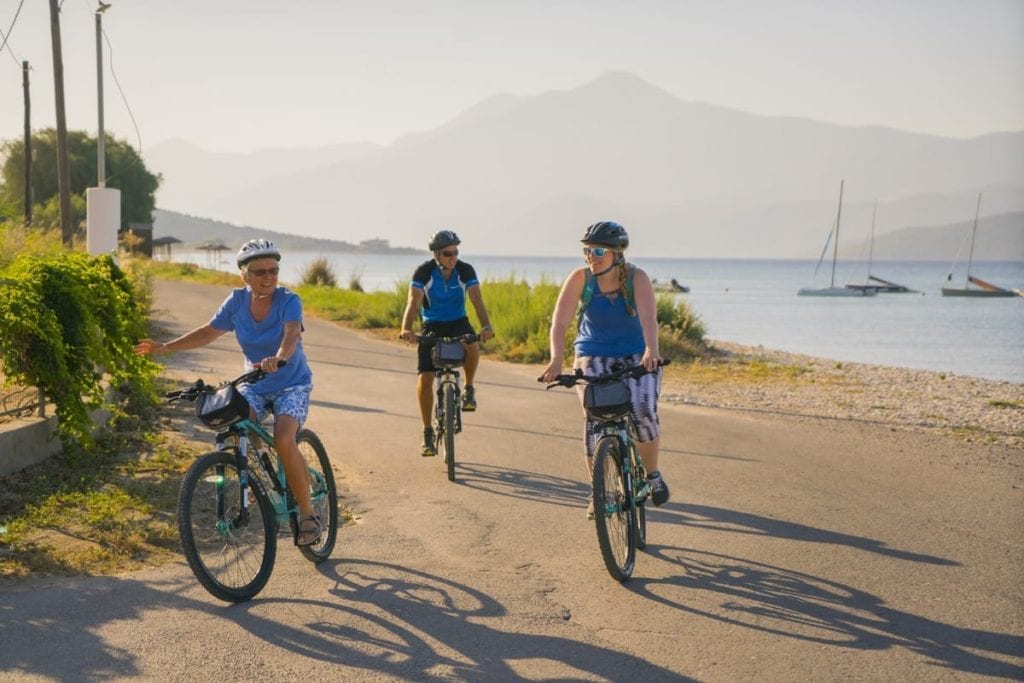 Secondly, we meet Jo!
Jo enjoys road cycling in the UK and so decided to bring her bike along with her to Samos! For someone who enjoys a new challenge, Samos has a lot to offer. Let's find out more about Jo's experience of cycling on this stunning Greek island:
B: So do you get much use for your bike here in Samos?
J: Yes, completely. So before I came I was thinking, "is it worth it? Shall I bring it? Shall I not?" And so I googled about road cycling in Samos and I discovered that people love it here and I thought that must mean the roads are in good nick – and they are! Straight from the hotel, you've good a few really nice routes and there are really decent side roads so you don't have to hit the main ones. You can get all the way to beaches that you wouldn't usually get to see. Also, you get to climb some mega hills and test the gears out!
B: Why is that fun?!
J: The thing is, it's 45 minutes of up and then just an incredible downhill decent. You can be going downhill for over a mile, uninterrupted. I'm based in Oxford and there are not many hills like this so it's really nice.
B: What do you particularly enjoy about the hills when cycling?
J: The downs! And the discovery. You get to see beautiful things and you go so fast. And I know many people take out the mountain bikes but I love going out on my road bike, you just see so much. I've only done the east side of the island but if you went further, I think you could see so much in a day. Even if you just go to Pythagoria, it's gorgeous. I love it.
B: Have you done any mountain biking at all while you've been here?
J: Not here, but I've been promised I would love it if I did it! Paul who is out here can lead proper guided rides and is really confident in mountain biking. I'm keen to go with him because he will show the way. Lots of guests here have gone with him and loved it.
B: Do you have a favourite location to cycle to?
J: So far, Klima Bay, which is on the east of the coast. I love the beaches on the east side of the island. they are just stunning. There are nice little roads, it's really well paved and it's gorgeous. I love all of that area.
*Names have been changed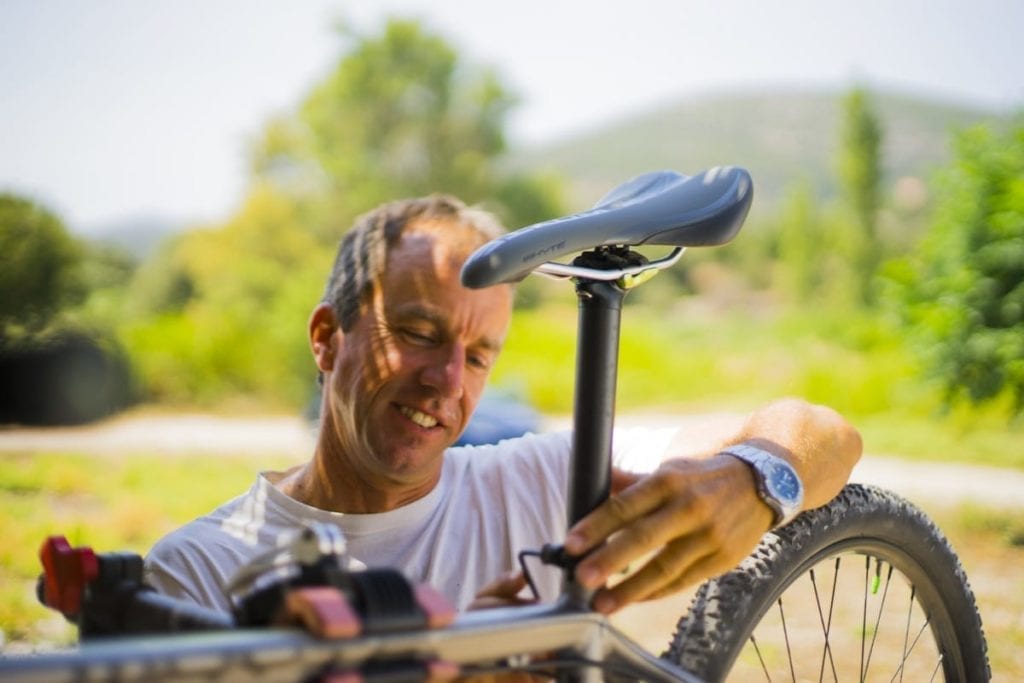 If you enjoy cycling on holiday – or if you're a beginner who likes the sound of gorgeous coastal views and unspoilt destinations – we'd love to welcome you to Samos! Bookings are now open so please click below to enquire now.