Quality Christian Holidays
Our May 2023 tour was great success and completely sold out! If you would like to express interest in our next tour, please get in touch to join the waiting list so that you'll be the first to know.
A tour to the Holy Lands is an experience like no other. Come and walk in the footsteps of Jesus as your guides explain the context and Christian significance of each incredible location, bringing sites to life.
We believe that a Christian Israel tour is an incredibly special and unique type of holiday. During Richmond's nine-day tour, we pray that you will not only grow your understanding of the scriptures, but also be encouraged and inspired in your faith.
At Richmond, community and fellowship are at the heart of our holidays. Come as a solo traveller or with others and feel welcomed into an inclusive and friendly atmosphere as you explore this awe-inspiring destination.
Israel is located North-East of Egypt and East of the Mediterranean Sea, which makes up the majority of Israel's 170 mile coastline. It also has a small coastline on the Red Sea in the South.
Israel has a very diverse geography, with desert conditions in the South, and snow-capped mountains in the North.
Richmond's tour to Israel will be running from Monday 29 May to Tuesday 06 June 2023 and we'd love for you to join us.
We'll be staying in three different locations and visiting sites all over Israel, starting near the coast in Netanya and visiting sites like Mount Carmel on the way to Tiberias on the Galilee. We'll stay here for the next three nights and visit sites in the north of Israel including the Mount Bental overview with stunning views of Mount Hermon. We'll then take a St Peter's fish lunch and a boat ride on the Sea of Galilee. We'll spend some time in Bethlehem, take lunch in the desert, and even have the opportunity for a camel ride! For the remaining nights we'll travel down to Jerusalem and make space to experience the Old City, visiting special sites including the Garden of Gethsemane, the Way of the Cross, the Temple Mount and the Jewish quarter.
Although we'll be travelling distances via coach, there is a lot of walking to access sites, so please make sure you're comfortable with standing and walking for periods of time.
Temperatures at this time of year tend to reach daytime highs of 28°C and lows of 20°C. The days are long and evenings can be warm and humid.
Throughout the tour, you will enjoy three different 4-star equivalent hotels selected to ensure you have great food, views and a space to look forward to returning to at the end of each day.
All the accommodation will provide breakfast and evening meals and are able to cater for various dietary requirements.
There will be recommended lunch stops throughout the tour, and two scheduled lunches are included in the cost of your holiday: St Peter's Fish lunch and Genesis Land desert lunch.
Resort Hadera, Hadera – 29 to 30 May
Situated right next to Binyamin Beach, facing a beautiful lagoon and natural sea rock formations.
Every room in the hotel offers a mesmerizing view of the Mediterranean Sea
Emily's Boutique, Tiberias – 30 May to 02 Jun
A family run hotel with spacious rooms and high ceilings just a 5 minute walk from the city centre.
Neve Ilan, Jerusalem – 02 to 06 Jun
Nestled in the heart of the Judean mountains a short distance from Jerusalem, come away each evening to a peaceful hotel in a green and pastoral setting.
This tour is led by your Richmond Ministry Leaders as well as a licensed Tour Guide through our local partner. This ensures that we can provide you with a fascinating deep-dive into the history and cultures of the Holy Lands while also offering biblical Christian teaching, time for reflection, prayer and praise.
Our local partner company has 27 years experience in creating Bible-centred experiences in Israel and is passionate about helping people draw closer to God. We're excited to partner with an established Christian company who are dedicated to creating high quality, rich experiences in Israel.
Your Richmond Ministry Leaders are passionate believers and as well as providing teaching, they are there to pray with you and offer pastoral support as you journey together. We believe that a tour of the Holy Lands is the perfect opportunity to grow deeper in relationship with our awesome, loving God in the setting of the historical biblical sites we read so much about.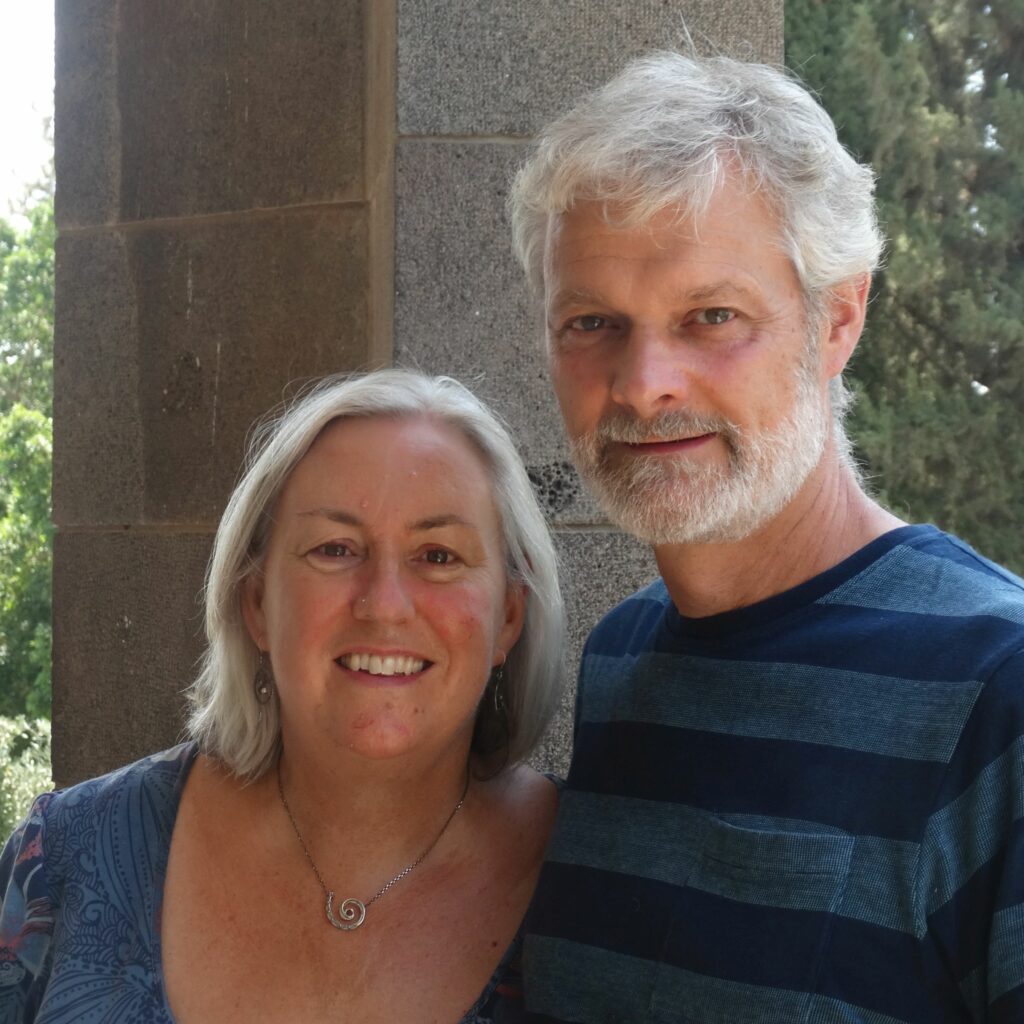 Meet your Richmond Ministry Leaders
Neville and Anthea met in Oxford and got married in 1983. They've lived in Oxford ever since except for seven years living and working in Jerusalem (2015 – 2022). They have four grown-up sons and five grandchildren (so far). They worship at St Aldate's Church, Oxford, and in Jerusalem they worshipped at Christ Church, Jaffa Gate.
In 2021 Neville was ordained deacon at Christ Church. Neville has a background in the sciences but earns his living writing software for a small computer company in Oxford. He has had a love for the Bible since his student days and enjoys teaching it, whether preaching or in more informal situations. In recent years he has focused on the culture and context of the New Testament, especially the gospels.
Anthea was born and grew up in Israel as her parents worked for CMJ (Church's Ministry Among Jewish People). She trained as a nurse in Oxford and worked in hospital and as a community nurse, then as a college nurse at the university before accepting the role of school nurse at the Anglican International School, Jerusalem. Anthea speaks Hebrew, which is the official language of Israel. She has been involved in pastoral care in a variety of ways.
Eight nights half-board accommodation in 4* equivalent hotels
Local Licensed Tour Guide
Richmond Ministry Leaders
Audio Headsets
All in-country transport, including airport transfers
Entry and tickets to all scheduled sites and activities
Two lunches: St Peter's Fish Lunch and Genesis Land lunch
Richmond Israel Tour Pack including guidebook
Return flights from London Heathrow with Virgin Atlantic and 23kg hold luggage
An over-18s only Richmond group
Six lunches
Tips for guides, drivers and hotel staff. In Israel, there is a guide, driver and hotel staff tip expectation per day. We've found groups like to be able to hand these on personally rather than Richmond taking care of this important cultural expectation:
Guide: $6-8 per participant per day (26 Israeli New Shekel)
Driver: $3-$5 per participant per day (17 Israeli New Shekel)
Hotels: $2-$3 per person per day (to be divided equally between Front Desk, Dining Room, Housekeeping and Bell Boys) (10 Israeli New Shekel)
This schedule is a rough outline which will be led by our licensed local Tour Guide alongside our Richmond Ministry Leaders. We hope to create an itinerary that takes in key sites and historically significant events, while also creating space for meaningful reflections and spiritual encounters to come away reinvigorated and inspired in your faith. This Christian Israel tour itinerary is subject to amendments:
Join onto our direct flights and be greeted by your Richmond Ministry Leaders at the Ben Gurion airport in Tel Aviv. Arriving in the afternoon, we'll travel from Tel Aviv to our coastal hotel for our first evening meal and trip briefing.
Staying in Tiberias, Galilee
We'll travel to the Galilee region, visiting a number of sites including Mount Carmel, through Cana to your Galilee hotel for dinner and overnight.
Staying in Tiberias, Galilee
We'll head out onto the Sea of Galilee on a Holy Lands sailing boat, to Capernaum, Tabgha, the Mount of Beatitudes and have a St Peter's fish lunch together.
Staying in Tiberias, Galilee
Today we'll explore upper Galilee including the Mount Bental peak with stunning views of Mount Hermon and the Golan. We'll also go to the banks of the river Jordan and the Yardenit Baptismal Site.
We'll travel into the West Bank, take lunch in the desert and go into Bethlehem.
There's so much to explore in Jerusalem and today we'll visit the Mount of Olives, the Garden of Gethsemane and the Pools of Bethesda. In the evening we'll experience the Sound & Light Show at the David's Tower.
Spending another day in Jerusalem, we'll visit the Western Wall, the Jewish Quarter and the Yad Vashem Holocaust Museum.
Today we'll travel into the desert to Masada, taking the cable car in the National Park, travelling to En Gedi and Qumran and swimming in the Dead Sea.
We'll be checking out late this morning from our Jerusalem hotel before heading to the Garden Tomb for the morning. We'll then take our final journey to Tel Aviv airport for our late afternoon flight with a lifetime of memories.
FLIGHTS
The Richmond ATOL-protected package includes return flights from London Heathrow with Virgin Atlantic. Transfers and 23kg of hold luggage is included.
Monday 29 May 2023 – London Heathrow 08:20 -> Tel Aviv 15:40 (VS457)
Tuesday 06 June 2023 – Tel Aviv 17:25 -> London Heathrow 21:05 (VS458)
Please note, this flight is carefully selected to match the tour timings and remain convenient for as many people as possible. There are, of course, alternative flights available to book independently, but please be aware that flights on different schedules and flight paths will require alternative transfers. With this in mind, we recommend getting in touch if you would like to make alternative travel plans and we will provide further information and amend your quote.
TRANSFERS
When booking the Richmond package, all your transfers are included in the price of your holiday so you have nothing to worry about! If you are interested in booking transfers to meet alternative flights, please contact us for a quote.
The May 2023 Tour is now Sold Out
Get in touch with us to find out more